For Kathleen

It makes me very happy to know that your baby likes to spin inside your maternal womb. So one day she says: "Over there!" and she rolls towards that side. Next day she says: "Over there!" and there she goes wheeling like a roll of yarn towards the East. Then she says: "Tic-tac-toe!" and there she goes hopping until she ends at one side of the board, drawn with pencil over white paper and writes a large X on a square and waits, smiling, for her mom to write an O on another square.
Next day she says: "There goes a cat!" and she twirls towards the other side where a completely black cat, Yoshi, sitting down at the top of a reddish brown sofa with his half-opened green eyes leaks his chest with relish. Then she says: "With one foot only!" and she jumps northwards with one round and soft foot only. That's why sometimes babies end up with their umbilical cord twisted around their necks. But above all they smile and laugh heartily with an almost non audible laughter, full of joy and well being, hoping to feel that way for ever.
Suddenly she has a tantrum and there she goes, her feet hitting her mommy's womb as if she were the White Rabbit stomping over a solid tambourine in Wombland.
But it really is the White Rabbit and baby asks him:
"White Rabbit, where did my mom go?"
And the Rabbit, pulling out his bright golden pocket clock, says:
"No time to say Hello-Good bye, baby. No time. I'm gone."
And bouncing and bouncing he disappears in the darkness.
"Well, if somebody does not have time to talk to me, why should I ask him?," says the baby.
Then she continues:
"Over there!There goes a cat!"
Twirling and twirling she comes near a big Cat and asks him about her mom.
The Cheshire Cat, with a mischievous grin, showing all his teeth, says:
"The cream is delicious here... Baby, your mom went out looking for Yoshi."
"Yoshi?, " says the baby. "Yoshi is here!"
"No my child," says the feline moving slowly his big brown bushy tail with purple stripes. "Yoshi is not there. He is in the garden, where Psyche used to pee on the snow, remember that? Your mommy went to fetch the cat and I'd better go to the garage before she fetches me and makes me sleep with Jack in the same sofa. Ah, he is so territorial... He likes to scratch my face. He doesn't know how to live in peace. Now I have to go and find the Mad Hatter. Go that way, baby, and ask for the March Hare."
The Chesire Cat has a Tic-tac-toe board drawn on his chest with fresh ink; but the baby does not say anything about it. She continues:
"But the March Hare is mad."
"Oh, my child, you have to get used to these things because here in Wombland everyone has his own craziness. Be a good child now and you will be all right."
And the baby says:
"I'd better play Scissors Paper Stone with Uncle Mike."
She rolled towards the West; but she did not find Uncle Mike. Instead she found the March Hare who as soon as he saw the baby said:
"Oh, baby, we'd better change the subject."
The baby sitting down at the feet of the Mad Hare said:
"Subject? What subject?"
The Mad Hare, with his yellow fixed eyes and his cup of tea, said:
"The subject that everyone is talking about."
"And what is that subject?"
"That is the subject about the subject that everyone is talking about."
"Yes big March Hare, but what is the subject of that subject?"
"Oh, my child, when you grow up, you will be a philosopher. You will get a Ph.D. degree in Philosophy. You will know about Aristotle and Plato, about the Symposium and all that good stuff. That subject is the reason why, at the beginning of the breeding season, the female rabbits reject violently, with their forelegs, the overenthusiastic male rabbits."
"Oh, well. My mommy knows all about it, because she comes from the University where there is a lot of over enthusiastic young College students. Maybe I'll find her now to tell me more about this subject's subject. As far as I know she knows all about it."
Baby left the March Hare who was adding some cream to his cup of tea and kept rolling; but she stopped when she saw Dodo with his big pipe, who asked her before she could say anything:
"Hi, my baby. I am extinct, now! Have you ever been down a chimney? I mean down a dark and dirty chimney."
The baby thought:
"Why does he ask me about a chimney when I have not been born yet?"
Then Dodo, with his big brown beak and his pipe, asked:
"Baby, do you have a thimble?"
"A thimble? What do you need a thimble for?," answered the baby feeling the intense smell of the smoke.
"Oh, baby. So then you have not been born yet. But one day you will and you will know. Do-do don't you know?"
"All right, big Dodo. Now tell me then where my mommy is."
"Your mommy is talking to her mommy through the web cam."
"What is a web cam?"
"Baby, as I said, when you come to the real world you will know. Now let me go because I have to see the Queen of Hearts. Bye..."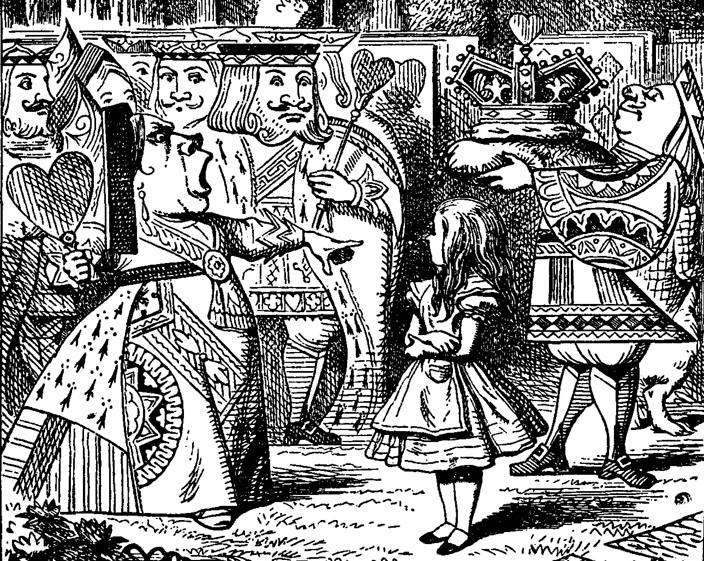 At that moment the mommy tapped her tense belly saying in low voice:
"Very well. Baby; go to sleep now. You have kicked me enough tonight. Sleep, my love. Sleep now."
As if by a miracle, the baby felt the nice warmness of the amniotic fluid where she was suspended and felt that a nice somnolence was occupying her mind and very willingly fell asleep.
Manuel Lasso
Me agrada cuando me cuentas que a tu bebé le gusta rodar dentro de tu vientre materno. Así que un día dice: "¡Por ahí!" y se va girando como una bola de lana. Al otro día dice: "¡Por allá!" y se va remolineando hacia el este. Luego dice: "¡Tres en raya!" y se va saltando hasta que llega a un lado del tablero, dibujado con lápiz sobre papel blanco. Se detiene en un cuadrado, y escribe una X grande y espera, sonriente, que su mamá escriba un cero en el otro cuadrado. Al día siguiente, dice: "¡Ahí va el gato!" y gira imparable hasta que llega al otro lado de la habitación donde el gato negro, Yoshi, con sus ojos verdes medio dormidos, se lame el pecho con ansiedad. Luego la bebé dice: "¡Con un solo pie!" y salta hacia el norte. Es por eso que a veces los bebés terminan con el cordón umbilical alrededor del cuello. Pero, sobre todo, sonríen y se ríen a carcajadas con una risa casi inaudible, llena de alegría y bienestar, con la esperanza de sentirse de esa manera para siempre.
Repentinamente, ella tiene una rabieta y ahí va, con los pies golpeando el vientre de su mamá como si fuera el Conejo Blanco taconeando fuertemente sobre un tambor sólido.
Pero esta vez realmente se trata del Conejo Blanco quien saca un brillante reloj de oro de un bolsillo, lo levanta y lo abre. La tapa de vidrio se levanta suavemente y se ve al segundero dando vueltas muy rápidamente. La bebé le pregunta:
"Conejo Blanco, Conejo Blanco, ¿dónde ha ido mi mamá?"
Y el Conejo Blanco, mirando su reloj de oro, le dice:
"No hay tiempo para decir Hola-Adiós, querida. No tengo tiempo. ¡Me voy!"
Y saltando se aleja y desaparece en la oscuridad.
"Bueno, si alguien no tiene tiempo para hablar conmigo, ¿por qué le voy a preguntar?," dice la bebé.
Se trata del Gato de Cheshire, quien con una sonrisa maliciosa, mostrando todos sus dientes, le dice:
"La crema aquí es simplemente deliciosa... Bebé, el Conejo Blanco nunca tiene tiempo para hablar con nadie. Siempre anda de prisa. Tu mamá salió en busca de Yoshi."
"¿Yoshi?," dice la bebé. "¡Yoshi está aquí!"
"No, mi niña", dice el Gato de Chesire moviendo suavemente su cola parda, espesa y grande con tiras moradas. "Yoshi no está allí. Él está en el jardín, donde Psique se orinaba en la nieve, ¿recuerdas? Tu mamá lo fue a buscar y mejor me voy al garaje antes que ella me agarre y me haga dormir con Jack en el mismo sofá. Ah, es tan egoísta... Le gusta arañarme la cara. Ahora tengo que ir a buscar al Sombrerero Loco con quien tenemos que hacer algo. Anda tú por ese camino, nena, y pregunta por la Liebre de Marzo."
La bebé observa que el Gato de Chesire tiene un tablero de Tres en Raya en el pecho dibujado con tinta negra; sin embargo no hace ningun comentario.
"Pero la Liebre de Marzo está loca," dice la bebé.
"Oh, mi niña, usted tiene que acostumbrarse a estas cosas porque aquí en el mundo del Wombland todos tienen su propia locura. Sé una buena niña y todo te ira bien."
"Será mejor jugar al Yan Ken Po con mi tío Mike."
Se dio la vuelta hacia el oeste, pero no encontro al tío Mike. En su lugar se encontró con la Liebre de Marzo, quien tan pronto la vió le dijo:
"Oh, bebé, será mejor que cambiemos de tema."
La bebé se sentó a los pies de la Liebre Loca y dijo:
"¿No hemos comenzado y ya vamos a cambiar de tema? ¿Qué tema?"
La Liebre Loca, con sus ojos amarillos fijos y su taza de té, le contestó:
"El asunto del que todo el mundo está hablando."
"Me refiero al tema sobre el tema del que todo el mundo está hablando," respondió la Liebre Loca mientras endulzaba su té con una cucharilla de plata.
"Sí, Liebre Loca, pero ¿cuál es el asunto de ese asunto?"
"Oh, mi hija, cuando crezcas, serás una filósofa. Recibirás un doctorado en Filosofía. Hablarás sobre Aristóteles y Platón, sobre el Simposio y sobre todas esas cosas buenas. El asunto es la razón por la cual, al inicio de la temporada de celo, las conejas rechazan violentamente, con sus patas delanteras, a los conejos machos que las cortejan con demasiado entusiasmo."
"Oh, bueno. Mi mamá sabe todo acerca de eso, porque ella viene de la Universidad, donde hay una gran cantidad de estudiantes universitarios demasiado entusiastas. Por lo que yo sé, ella lo sabe todo."
La bebé se alejó de la Liebre Loca que estaba añadiendo un poco de crema a su taza de té y siguió rodando, pero se detuvo cuando vio a Dodo con su pipa grande, quien le preguntó antes que ella pudiera decir nada:
"Hola, mi bebé. ¿Alguna vez has descendido por una chimenea? Quiero decir por una chimenea oscura y sucia."
"¿Por qué me pregunta acerca de una chimenea cuando no he nacido todavía?"
Dodo, con su gran pico pardo y su pipa, se detiene por unos segundos para jugar al Tres en Raya sobre un papel blanco que acaba de trazar. Dibuja un cero en un cuadrado y luego con una raya une tres ceros. Exhalando el humillo azul de su pipa le vuelve a hablar a la bebé:
"Cariño, ¿tienes un dedal?"
"¿Un dedal? ¿Para qué necesita un dedal?,"preguntó la bebé sintiendo el olor penetrante del humillo azul.
"Oh, nena. Veo que no has nacido todavía. Pero un día nacerás y lo sabrás."
"Muy bien, Dodo. Ahora dime, ¿dónde está mi mamá?"
"Tu mamá está hablando con su mamá a través de la cam web."
"Bebé, como he dicho, cuando llegues al mundo real, lo sabrás. Ahora me voy porque tengo que ver a la Reina de Corazones. Adiós..."
En ese momento la mamá golpeteó con los dedos su vientre tenso y dijo en voz baja:
"Muy bien, bebé. Es hora de dormir. Me has pateado lo suficiente esta noche. Duérmete, cariño. Duérmete, ya."
Como por un milagro, la bebé se durmió y empezó a soñar. Percibió la calidez agradable del líquido amniótico donde flotaba y sintió que una somnolencia deliciosa invadía su mente y en silencio y se quedó dormida.